Nightlife, Culture, and Cuisine Mix in Cabo San Lucas…
We here this question repeated time and time again with a new city as the subject. This time it's "Is Cabo safe?" And we understand, safety is just as important as enjoying yourself while on vacation, so let's answer it for you!
Commonly called "Cabo," Cabo San Lucas is located in the south of Mexico's Baja Peninsula in the state of Baja California Sur.
Though you probably know Cabo already…
Cabo has earned a bit of a reputation as a party town. Mainly because of the annual arrival of spring breakers that come for city's lively club scene. But once their annual pilgrimage is over, the city caters to guests of all ages. So for those looking to experience a bit of a livelier Mexican vacation, Cabo is the perfect spot.
Though despite its popularity, many people still wonder…
"Is Cabo safe?"
The answer is yes!
Then why do I hear it isn't?
Because bad news makes for better news stories. No one would read an article titled, "Couple goes to Cabo, comes back with tan…"
So we often only hear about the things that go wrong and not so much the amazing parts.
Still, news reports about the increased danger in Cabo San Lucas, and much of Mexico overlook one fact.
Crime happens everywhere. So, of course, Mexico would not be an exception to this rule. That said, some places in Mexico do struggle with cartel violence and are a bit dangerous. Though the vast majority of the country is as safe as any other place.
Still, need some convincing?
For the most part, Cabo San Lucas is a very safe area to visit.
Violent crime rates are low, with the most common crime being pickpocketing.
Luckily, the Baja Peninsula tends to be isolated from the more turbulent areas of Mexico.
That said…
It's probably best to fly into the Cabo San Lucas International Airport if possible. As driving south through the peninsula to your destination can be a bit dangerous. Mainly due to drug cartels along the border towns in the north. But if you do choose to drive, please stick to toll roads and drive during daylight hours only.
Once you arrive at your resort, safety is no longer a big issue.
Since most tourist resorts in Mexico are gated, if you stay on your resort's property, safety is all but guaranteed. This is especially true if you book a resort through a reputable business like Mayan Rentals.
When out and about…
Most of Cabo San Lucas is safe, especially because it is regularly patrolled by the "tourist police," a branch of law enforcement of almost 100, that speak both English and Spanish. They are specially trained in an effort to advise and protect visitors. Downtown Cabo, and the tourist corridor are where most resorts, shops, and restaurants are located. Some popular spots include The Office, Cabo Wabo and El Squid Roe.
According to the most recent information from the U.S. Department of State, most crime in the Baja Peninsula has taken place in the north, with high way robbery already mentioned, and between rival gangs in the state capital, La Paz.
Staying safe while enjoying the beach…
The main concern for safety in Cabo San Lucas is in the water. If you are interested in swimming or water sports, stay in your hotel pool or on the eastern side of the peninsula. Cabo waters can be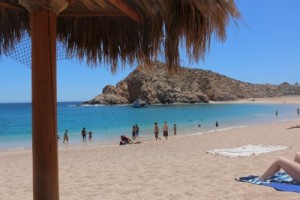 dangerous with rogue waves and riptides. Take into account that there are normally no lifeguards on the beaches. Some visitors have mentioned that not all tour and boating guides follow standard water safety precautions, like having both a driver and a spotter, so it's best to be responsible for yourself and your loved ones. Here are some tips for staying safe in the water:
Don't swim out further than you are capable of swimming back…
Always swim with a partner…
Don't drink alcohol before or during water activities…
Keep an eye on the weather, especially during the late summer storm season…
Don't attempt to kayak or paddleboard across the open water…
Be very cautious when renting water vehicles like jet skis. Many companies do not keep up with necessary maintenance and may not be properly insured…
If you choose to enjoy the nightlife of Cabo San Lucas, just keep a few safety precautions in mind, especially if you plan on giving in to the temptation to drink a few too many "adult beverages".
Staying safe and enjoying the nightlife…
Don't go out to the nightclubs alone at night. Always stay with a group. If you find yourself alone for some reason, do not attempt to walk back to your hotel alone, take a taxi.
Don't accept drinks from strangers and keep an eye on bartenders and other bar staff who are handling your drinks. There have been instances of drugs being slipped into drinks.
Try to alternate each alcoholic beverage you consume with a bottle of water. Dehydration can be dangerous, especially when combined with alcohol poisoning.
Keep your money and valuables in a money belt, or cross-body purse or bag.
Don't become disorderly and out of control. Mexican authorities will not tolerate it. And do not buy or take drugs. The punishment for drug possession is extreme in Mexico.
If you are planning to walk around Cabo, especially at night, do not wear very high heels. The streets are uneven and unpaved in many areas.
Speaking of streets, take caution when crossing them. The local style of driving is aggressive and fast.
Keep your passport at your hotel if you do go out, rather than carrying it on you where it can get lost or stolen.
Don't carry a lot of cash.
So for those wondering, "Is Cabo safe?" The answer is, absolutely! Just as long as some safety precautions are kept in mind, just like on any vacation or night out on the town!