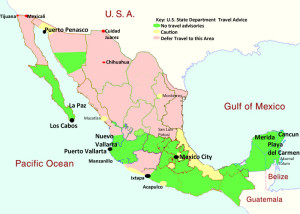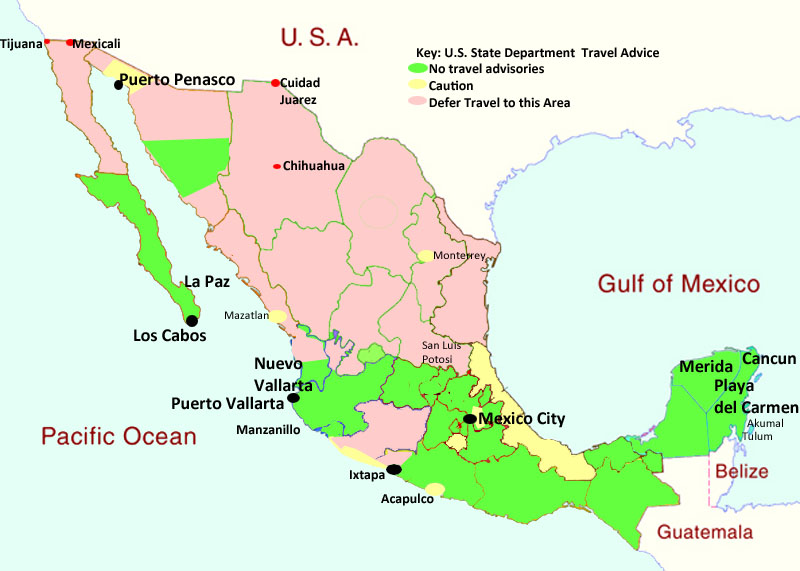 According to Christine Delsol's article on the SFGate news website, the U.S. State Department's newest Mexican travel update does not spring any surprises or add any new tourist destinations to the listing of no-go zones in Mexico. Continuing a tendency that started with the Feb. 8, 2012 update, the State Department has gotten more certain about where traveling is dangerous in Mexico, and where it's not. The vagueness of earlier alerts led cautious travelers to reason that most of Mexico was going up in flames. The state by-state evaluations created this year, clearly outlining areas to steer clear of and places that call for care, are ultimately informative enough to assist travelers in making sensible choices.
Definitely Go
Starting with the same report that "Millions of U.S. citizens safely see Mexico every year," the State Department's updated warning lays out a cogent review of Mexico's difficulties with drug-related violence, kidnappings and carjackings and gives some helpful general guidance. Additionally, it details when and where U.S. government workers' journeys in Mexico are confined (which could function as a guideline for careful U.S. leisure travelers).
Just about any one of the locations that attract the great bulk of U.S. tourists to Mexico gets the green light (Acapulco is the glaring exception). This includes the whole Yucatan Peninsula, including the Costa Maya and the Riviera Maya, Cancun, Chichen Itza, Merida and Campeche state. Other states completely safe for travel are Chiapas, Oaxaca, Hidalgo, Puebla, Queretaro, Tabasco and Tlaxcala. Puerto Vallarta, Guadalajara and the Riviera Nayarit are also exempt from warnings that apply to other areas of their respective states.
Northern Mexico
Tijuana is the chief high-crime city, though Mexicali's government increased its police presence in July. Ciudad Juarez is notorious for its numbers of substance-related murders, and although it has settled down in the previous few years, it still has a murder rate among the highest in Mexico. Violence in Chihuahua City has improved lately, and even the once safe Copper Canyon has seen incidents of drug-related violence.
Coahuila state is another one to stay away from. The cities of Saltillo and Torreon, in particular, have seen escalating narcotics-related murders and violent offenses. The warning also advises against traveling in Durango, where homicides more than doubled in 2011 and several areas stay volatile and unpredictable.
In Nuevo Leon, travelers should avoid most of the state and be careful in the metro region of Monterrey. Similarly, seeing the city of San Luis Potosi demands care, while "nonessential travel" to the remainder of the state should be prevented. Journey beyond the toll roads in remote places is especially dangerous.
Sonora is really a patchwork of comparatively safe and dangerous zones. Travelers should reach the popular seaside town of Puerto Peasco (about 60 miles from the U.S./Mexican border) through the Lukeville/Sonoyta border crossing, rather than Nogales. There isn't any recommendation against San Carlos or Hermosillo, but U.S. government workers are permitted to drive between Hermosillo and Nogales just on the toll road during daytime hours.
On main roads outside of Reynosa, Matamoros and Nuevo Laredo Tamaulipas, which has seen a spike in armed robbery and carjacking, should be avoided. The greatest prevalence of crime happens along the Matamoros-Tampico highway, notably north of Tampico and San Fernando.
The warning also recommends avoiding Zacatecas state, aside from the town of Zacatecas, where caution is advised. Remote northwestern parts of the state bordering Coahuila and Durango are particularly dangerous, and their authorities cannot patrol it consistently or react immediately to reports of problems. Carjackings, robberies and drug-related gang activity have grown noticeably.
Southern Mexico
Travelers should stay away from the area of Aguascalientes state that edges Zacatecas, though there isn't any warning for the town of Aguascalientes. In Colima state, stay away from the area bordering Michoacan, and be careful traveling at night in the remainder of the state. There isn't any warning against traveling to Manzanillo.
In Michoacan, travelers should be careful in Morelia and Lazaro Cardenas, and they ought to fly into those cities or drive to Lazaro Cardenas from the south on Highway 200. The remainder of the state should be avoided. Toluca, the main town in the area, is clear, but La Paz, Coacalco and other municipalities bordering the Federal District east of the airport require care.
The State Department recommends exercising care in Guerrero state and staying within tourist areas of Zihuatanejo, Acapulco and Ixtapa. Beyond these areas, travel isn't recommended within the northwestern or southern parts of the state, and caution is advised within the north. The state of Nayarit from Xalisco and Tepic has experienced shootouts and roadblocks, and should be nixed, but the Riviera Nayarit and the southern area of the state are safe for traveling.
Travelers should be careful when traveling in Morelos, which has been subject to unpredictable spates of substance-related violence. This contains the town of Cuernavaca, which is well known for its language schools. Caution is also suggested in the vicinity of Veracruz, which only in the previous year has started to find violence among rival drug gangs.