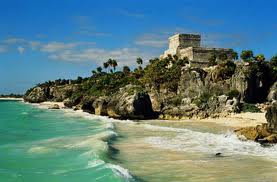 Terry Denton has his own blog, "Travel by Terry," in which he often defends Mexico from the slew of biased and sometimes inaccurate media attention. Here he offers some insight into the problem of negative press on Mexico with some questions:
As an unrepentant lover of Mexico, I confess it is hard not to take this personally  What if day after day you had to read gross exaggerations, half-truths and outright, and often outrageous, lies about someone you cherished?  You don't need to respond to my rhetorical question because we both know that it would make your blood boil.

Just to be clear, I am not suggesting that the media "has it in for Mexico".  Not at all.  This is not another rant against media bias.  What I do maintain, however, is that in their insatiable thirst for the salacious, Mexico and its 112 million proud people are in the minds of the media – assuming they bother to think about such things at all – unfortunate collateral damage.  Just like the definition above, the media's image of Mexico is blurred precisely because their focus is on one relatively small, admittedly ugly reality and thus falls woefully short of the retina of responsible reportage.
It happens every day. Vacationers who would be perfectly happy laying on a beach in Mexico are choosing to visit other foreign countries that are actually more dangerous than Mexico! The actual shame is that such folks are depriving themselves of some of the best experiences available anywhere on earth. Mexico has beautiful and safe resorts, delicious dining, rich traditions and exciting activities that are being missed out on, mainly because of the negative media attention that the country is receiving.
Undeterred, Denton promises to keep on lending his own voice to a lot of others shouting in the wilds. His only hope is that your choice, as a fellow traveler, will be centered on a fundamental appreciation of geography, a familiarity with a few basic facts, plus a confident reliance on the consistent account of a legion of travellers to Mexico with irrefutable first-hand experience.
Denton turns his attention to some practical "metrics" that you can use for measuring the safety of Mexico:
Allow me to share a couple of realities that seldom get mentioned by the media.  The first is the fact that the vast majority of the security problems in Mexico are restricted to towns along the border and a few other scattered sites.  It is worth noting that Mexico has over 2500 municipalities and security problems have been concentrated in just 18 of them.  You probably won't run across this embarrassing little jewel either, embarrassing to the US that is.  It almost makes you question the wisdom of staying at home!

The second fact rarely discussed is the immense size of Mexico (roughly the size of Western Europe) and the distances between historical hot spots and resort cities. Take a look at the map below. You may be surprised to discover that it is roughly 1000 miles from Juarez to Cancun and almost 800 miles from Tijuana to Cabo San Lucas.  The white line is meant to suggest how head-scratchingly strange we here in the US would find it if a potential visitor from a foreign country shared with us that he was apprehensive about visiting San Diego because he had heard of a recent ugly incident in New Orleans.
According to Denton, here are a few interesting facts that you probably have not heard in the media:
1) The Mexican Ministry of Tourism revealed that 2011 was a record-breaking year for tourism with. 23.4 million international travelers visiting Mexico in 2011.

2) The Mexican Ministry of Tourism announced that 4.99 million international tourists visited Mexico between January-April 2012, representing an increase of 5.3 percent compared to the same period in 2011.

3) Mexico is currently rated 10th in the world rankings for most international visitors and has publicly set a goal to be in the top 5 by 2018.

4) There are currently no US travel advisories in place for popular tourist destinations like Cancun, Cozumel, Playa del Carmen, Riviera Maya and Tulum, the Riviera Nayarit, Cabo San Lucas, Puerto Vallarta, Guadalajara and San Miguel de Allende, Leon or even Mexico City.