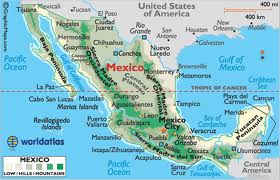 In a recent article, "Washington Post" author Andrea Sachs lamented Mexico's safety as compared to the rest of the world.
"There's a big gap between perception and reality," said Margot Lee Shetterly, a Hampton, Virginia native who relocated to Mexico with her husband six years ago. "It's a real shame for people to write off a whole country without looking at the map and at the statistics."
Without a solid understanding of the geography (761,606 square miles) and the nature of the drug wars (internecine fighting), many foreigners assume that all of Mexico is a war zone. But it isn't. "The episodes of violence are in very specific pockets," said Rodolfo Lopez-Negrete, chief operating officer of the Mexico Tourism Board, "and are unrelated to tourism."
For proof, Lopez-Negrete rolled out the statistics, derived from a combination of government and non-government sources: Of 2,500 municipalities (what we call counties), only 80, or fewer than 5 percent, have been affected by the drug war, which accounts for only 3 percent of all crime.
Mexican cities are also safer than some urban centers north of the border: Mexico City, for example, has 8.3 homicides a year per 100,000 people. That's fewer than Miami (14.1) and Chicago (16.1). On a global scale, Mexico is safer than many of its neighbors. In 2008, the United Nations Office on Drugs and Crime reported Mexico's homicide rate as 11.6 per 100,000, significantly lower than Honduras (60.9), Jamaica (59.5) or El Salvador (51.8).
Many cities popular with vacationers, such as Cabo San Lucas and Nuevo Vallarta, are very safe to visit.