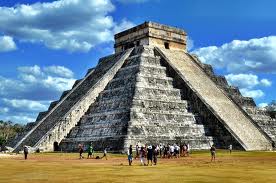 When most people used to think of Mexico, pictures of white sand beaches, aqua blue waters and endless nights out at the club came to mind. Today, thoughts of kidnappings, drug cartels and thievery have taken their place in the minds of many. For people like me, however, I have learned that this is simply not true. Mexico is filled with culture, great food and cheerful people who depend on tourism to feed their family. Granted, I still feel the need to be vigilant, but as long as I'm not doing anything illegal, I don't feel that there is any threat for me to worry about.
Just a couple of months ago my family and I took a wonderful vacation in Cancun, Mexico. We had been to Cancun a couple of times, but with the many warnings we had heard from various sources, I was a little worried about whether we should go. When we first arrived at the airport, it was everything that I remember it being. Exciting, bright and full of great gift shops and clothing stores. Our baggage pickup was simple, and we walked past the dozen or so resort salesman who tried to lure us in to taking a tour of their properties.
We stood outside to flag down a cab. It took about 15 minutes for an open cab to arrive, and once we got in we found that the driver was very fun and friendly. I practiced my Spanish on him and my husband talked to him about the political atmosphere in Cancun (leave it to my husband to bring up politics … anywhere). When we got to the hotel zone, the driver gave us a business card for the next time we travel to Cancun. We will definitely use Alexander's services again.
We chose a great all-inclusive hotel called The Oasis Cancun. All-inclusive is the way to go because you can eat and drink (yes, alcohol is included) all you want. It's great not to have to pull out a credit card for every meal that we have. The check-in at the hotel was slow. As they say, it took a "Mexican minute!" My husband didn't mind waiting because he was able to go to the bar and get a complimentary drink. After about an hour, we were all checked in and ready to see our room. The houseman guided us to our room and when we got there, we were immediately pleased. Since we had two kids with us, we got two queen beds, a nice private bath, cable TV and a nice little table. We also had a small fridge to use for drinks.
Dinnertime had already come so we made our way down to one of the eight restaurants, a buffet. We couldn't believe the large array of food and drinks that were offered! There were carving stations, Italian and Asian sections, a wonderful salad bar and even ice cream for desert. I loaded up with some roast beef, a piece of pizza and a soda. The kids loved the pizza, and my son spent an inordinate amount of time cruising the desert bar. Dinner wasn't the only meal that was good. The next day for breakfast we chose one of the small intimate restaurants. We were immediately seated at a nice round table and we were very pleased with the quick, polite service. I ordered the seasonal fruit plate and I was amazed when I was presented with a beautiful plate of fresh fruit, but more importantly, a large portion of sliced kiwi fruit. Their fresh juices and coffee were out of this world.
After breakfast, we took the bus (which left right outside the Oasis Cancun) to the Avis car rental in town. We had planned to rent a mini-van so we could go see some of the cultural sites. As always seems to happen, we were stuck in the office for over an hour. It was very confusing as to whether we should purchase the extra insurance (beyond liability), and we were confused about what was needed and what was covered. Finally we figured it out and took our van back to the hotel. Next on our agenda: a trip to Chichen Itza.
We were a little apprehensive about driving all the way into the next state to visit this site. I had visited it before when I was a teenager, but we went on a tour. We decided to take the back-roads instead of the freeway (which charged several tolls). We enjoyed driving through the little towns for a couple of hours, laughing at all of the speed bumps. Gee, did we learn how to drive over a speed bump! There had to be a hundred of them! When we finally pulled up to the historic site, we were ecstatic. I had climbed the main pyramid before when I was young (scary, scary experience!), but they had blocked it off a couple of decades ago.
The sun was as bright as can be and we applied lots of sunscreen before charging to the mini-pyramids. The kids were in awe. There were so many places for them to run and hide. We visited the game field where the ancient Mayans played different ball games where the winners were sacrificed to the gods! The kids were able to sit on some of the ruins, and they played make-believe games, calling the main pyramid "stone step hill." It was a great experience, and we took a lot of pictures. We couldn't stay too long because the sun was so intense. After a couple of hours, we jumped back in the car and made our way back to the resort.
I can say that I have been all over Mexico, and Cancun, among other cities, truly feels safe to me. Aside from one roadblock where the national police asked us a few questions before letting us drive on, I never really felt nervous at all. The colors, food, traditions and activities that we found in Mexico can't be duplicated in any other country. My advice to potential vacationers? Go! Don't walk, run to an established Mexican resort town (Cancun, Maya Riviera, Ixtapa or Cabo San Lucas, among others) and enjoy your friends and family. Mexico is truly a gem and should not be missed out on because of a few bad news stories!