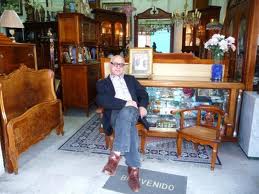 Stephen Adams, writer for the UK's "Telegraph," reports that Michael Nyman, famed composer of the musical score for the 1993 film The Piano, has decided to move to Mexico City, saying he feels safer there than in London. Apparently, Nyman is more concerned with the knife crime rate in the UK more than violence in Mexico.
Nyman has lived in Islington, North London, for 20 years, but told a local newspaper that he no longer felt secure on its main road:
"I actually find my part of Mexico City is safer than Upper Street," he said. "Walk along Upper Street any day. You see more flowers left by lampposts as memorials to murdered citizens than you do in Mexico City." He continued: "Knife crime particularly is extremely worrying. I tell Mexicans that there is not a lot worse than being on top of a bus at night when a bunch of yobs are throwing peanuts."
According to Adams, Nyman explained that parts of Mexico City have enjoyed a revival in recent years as the country at large has prospered. La Roma in particular, blessed with an array of colonial architecture, has blossomed into an enclave popular with artists from all around the world. Nyman said, "I feel absolutely no threat or fear in Mexico City. I know there is a huge amount of drug violence in Mexico itself, but at the moment it is not in the City."
Nyman lamented that Islington had lost its character over the decades, and was "being ruined" by chain stores. "Everything has become so corporate," he said. By contrast, he described Mexico City as being like London in the 16th and 17th centuries, full of "noise noise noise," which he described as "the cries of the city.".Mexico City, he said, is "a visual paradise" where he can hardly stop taking photographs.
Read Stephen Adam's entire article here.