With a name that takes a second try to guess, Oaxaca is a city that begs to be explored. But is Oaxaca safe? 
Of course, it is! But before we jump into the stats to prove it, let's learn a little about this city with so much to offer!
Oaxaca is pronounced "Wa-HA-ka."
The state is located in southwestern Mexico, bordered by Puebla to the northwest, Guerrero to the west, Veracruz to the north and Chiapas to the east. The state of Oaxaca has a fabulous coastline on the Pacific Ocean.
Culture and People of Oaxaca
There are 16 officially recognized indigenous cultures of Oaxaca, the best known being the Mixtecs and Zapotecs. The rugged terrain which attracts tourists in droves here is also responsible for the survival of these cultures. Mountain ranges that abruptly fall into the sea are separated by ravines, valleys, and canyons. The 533km coastline has nine major bays that offer spectacular views. Also famous for its biological diversity, the state boasts of a variety of mammals, reptiles, amphibians, and trees.
However, for us, the ultimate attraction is the Oaxacan mole.  There are seven types, but the ultimate is the negro or black mole.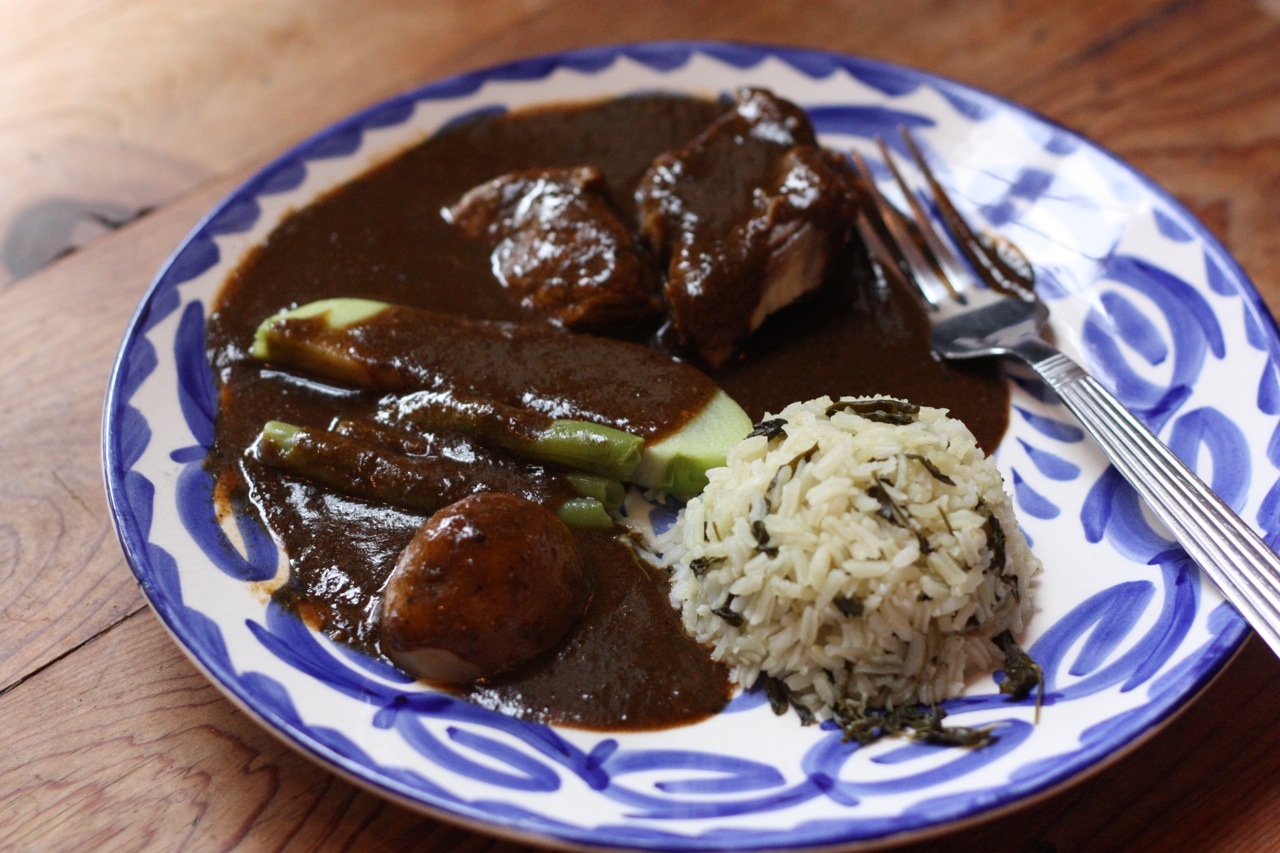 For a complete discussion, go to the Oxaca mole review.
U.S. State Department Advisory
The Department of State issues travel warnings to keep the citizens informed of the security situation in Mexican states. In addition to general overall security information, state-wide advisories on specific regions are varied. This shows that while some parts of Mexico are certainly dangerous, with local drug wars rampant, there are other states which are perfectly safe for travel. In addition to the Riviera Maya region, Oaxaca and its neighboring state Puebla have no travel advisory in effect.
Crime Statistics in Mexico – Any Different From Other Big Cities in the World?
There have surely been violent crimes in some parts of Mexico which have been sensationalized in the media and on the internet. Unfortunately, these reports lead people to believe that most crimes in the country are against tourists. In fact, these crimes are for the most part drug- or gang-related. While this is not a good thing, it does prove that tourists are not at significant risk in the tourist areas of the country, including Oaxaca.
Crime Rates in U.S. Cities
Is Oaxaca safe? Well, is anywhere truly 100% safe and free from crime? What about cities in America, are they safe?
It is surprising to realize that some cities in the U.S. have a higher murder rate per 100,000 residents than Mexican cities. According to the data available on 2011 crime statistics, Puerto Vallarta had a homicide rate of 21.96 compared to 24.35 in Oakland, 58 in New Orleans and 45.14 in St. Louis. Does this mean you will never visit Chabot Park or the Gateway Arch in St. Louis or the amazing cultural attractions New Orleans has to offer? Don't allow incomplete news about Mexico to deter you from enjoying the lush culture and warmth of the country.
Oaxaca – Places You Will Love!
There are some places you should have on your "must visit" list when you come to Oaxaca.
The virgin beaches of Oaxaca will take your breath away, especially Huatulco. Due to the terrain of the state, there are several lagoons (Chacahua National Park), waterfalls (La Guacamaya), natural spas (El Tzul-Zul, Laollaga), caves and caverns (San Sebastian, Apoala), and dams (Yosocuta, El Estudiante) that are awesome to visit. The rich cultural heritage of the state means you can feast your mind and soul on indigenous villages, archaeological sites, museums, temples, churches, and ex-monasteries.
Getting to Oaxaca and Its Wonders
Oaxaca is approximately 460km from Mexico City. It takes about 4.5 hours to get there by road and less than an hour by plane. If you are in Puebla, which is about 320 km away, it will take you close to 4 hours to get there. Direct flights from New York take about 5 hours. From Los Angeles, you can fly down in 4 hours. In fact, there are flights from most U.S. cities.
If you're ready to see for yourself, then make sure you stay in Mexico's top-rated resorts! Anything less is depriving yourself of everything Mexico has to offer.
So, pack your bags for a memorable holiday with your family to a land of beaches, history, and mountains … And remember if someone asks " But is Oaxaca safe?" Let them know what you learned!